What's In the Name?
Camp Sousley is named in honor of Fleming County Native and Iwo Jima Flag Raiser, Franklin Soulsey. Franklin Runyon Sousley was born in Hilltop Kentucky, which is just outside of Flemingsburg, on 19 September 1925. After his graduation from high school in June 1943, he moved to Dayton, Ohio, where he secured a job with the Frigidaire Division of General Motors.
Sousley entered the Marine Corps Reserve on 5 January 1944 through the Selective Service System and was sent to Marine Corps Recruit Depot, San Diego, for his boot training. Upon completion of recruit training, he was assigned to Company E, 2d Battalion, 28th Marines of the 5th Marine Division, then at Camp Pendleton, California. Private Sousley joined the company on 15 March as an automatic rifleman and remained with the unit in the same specialty until he met his death. In September, Private Sousley sailed with his company from San Diego for Hilo, Hawaii, where it arrived on 24 September. The young Marine was promoted to private first class on 22 November 1944. In the latter part of January 1945, after extensive training and maneuvers, Sousley sailed for Iwo Jima where he landed with his company on D-day, 19 February. Sousley survived the battle for Suribachi and moved northward with his regiment. On 21 March, Private First Class Sousley was killed during the fighting around Kitano Point.
At the age of 19, he was the last of the flag-raisers to die on Iwo Jima. His last letter home describing Iwo Jima is shown below.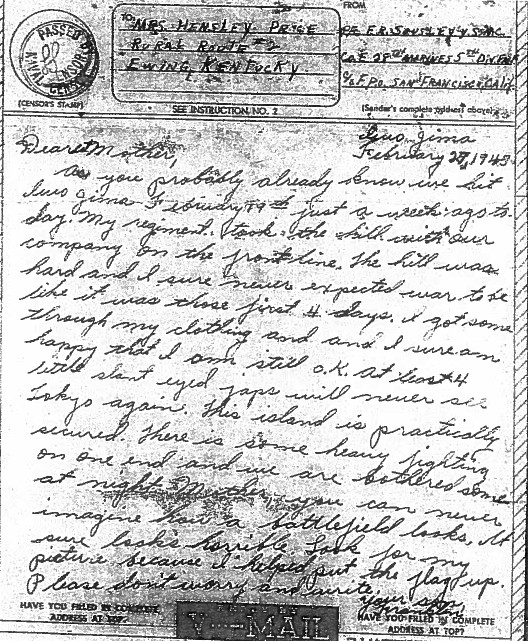 Private First Class Sousley was buried in the 5th Marine Division Cemetery at Iwo Jima in Plot 8, Row 7, Grave 2189. On 22 March 1948, a request was made by his mother to return the remains to the United States for re-interment in the Elizaville, Kentucky Cemetery.
Private First Class Sousley was awarded the following decorations and medals:
Purple Heart (posthumously)
Presidential Unit Citation with one star (for Iwo Jima)
Asiatic-Pacific Campaign Medal with one star (for Iwo Jima)
World War II Victory Medal
Each Cadet learns the story of Franklin Sousley and of his sacrifice and service to our Country. Everyone is welcome visit the Franklin Sousley Museum located on our facility.